BimmerWorld Endures Punishing Return To Sebring
March 18th, 2014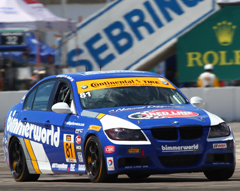 The BimmerWorld BMW racing team had high hopes on their return to racing at Sebring
The BMW aftermarket and tuning specialists at BimmerWorld have plenty of great memories from past races at Sebring international Raceway. Unfortunately, the team left its return to the Floridian track after a four-year absence with little more than nostalgia to draw upon.
The second round of the Continental Tire Series championship was a frustrating affair for the Virginia-based team. Three of its four cars struggled during the 2.5-hour event at the legendary road course as a mixture of mechanical woes, an odd happening that caused BimmerWorld's team owner to have a major crash, and overzealous officiating resulted in a race that will soon be forgotten by most of BimmerWorld's drivers and crew members.
"This wasn't a great weekend for us and it was just basic bad luck, the pace of the race, and some mechanical challenges that amazingly enough after seven years in that chassis we haven't seen before," said BimmerWorld team owner/driver James Clay. "We always like to learn and improve, and I am sure we will be sifting through the results to come back next year to Sebring stronger, but we really just had an atypically bad weekend and the team will have plenty of above average weekends to balance it out this season."
Greg Liefooghe and Tyler Cooke, drivers of the No. 81 BimmerWorld BMW 328i, produced the one meaningful result for the team, placing eighth after starting 18th. It marked the No. 81's second finish inside the top-10, following the excellent second-place result the duo earned at the season-opening race at Daytona.
"The start of the race was very tight, leaving me to make smart passes coming through the field," said Cooke. "Unlike most of the other cars, we didn't have much of a top end, so Greg and I really drove the car hard and kept it in the top-10 throughout the race. Fortunately for us, we were able to finish in 8th place, which helps our chances in the championship. I can't wait for the next race in California!"
SEBRING RACE DRIVER QUOTEBOARD
No. 80 BimmerWorld BMW 328i (E90): Corey Fergus & Kevin Gleason
Kevin Gleason: "It was a frustrating event for the No. 80 car. We had some issues in practice including a motor that let go which limited our time on track. Even with the issues the BimmerWorld guys gave us a great car for the race and Dave Wagener made a great call on strategy that kept us out front. Unfortunately, on what ended up being the final restart, our motor let go a few turns in while in fourth place. We missed out on what would have been a great points scoring day but we will keep our heads down and push forward to Laguna."
No. 81 BimmerWorld BMW 328i (E90): Greg Liefooghe, Tyler Cooke
Greg Liefooghe: "We chose a very aggressive strategy to get the track position, and it worked as we were running in fourth with 45 minutes to go. At 35 minutes to go, I was fighting to keep the position, but got the call from the pit lane to start saving the car and fuel to make sure we would finish the race. Although it was not the result we were looking for, eighth place still brings championship points."
No. 82 BimmerWorld BMW 328i (E90): Dan Rogers, Seth Thomas
Dan Rogers: "The guys at BimmerWorld gave is a great car for qualifying, and we started 12th, which we were pleased with. The race was really tight for the first few corners, and we ended up getting shuffled back, after getting stuck on the wrong side of the track a couple of times. After things settled down, we started working our way forward, one car at a time. The penalty for Seth on the wave around was unfortunate, and put us in a huge hole. There is obviously a lesson for us in this, but IMSA should also be looking at procedures and penalties for reasonableness."
No. 84 BimmerWorld BMW 328i (F30): Jason Briedis, James Clay
James Clay: "My incident started laps before it actually happened. With all of the green-flag running early in the race, we lost a lap in the pits. Then we made an error in our double-yellow procedures due to what I feel was a bit of unclear direction in the driver's meeting which caused us to come sit in pit lane to serve a penalty. I was running hard to get a result, the pit penalty caused me to sit as heat built within the wheel that ignited rubber pickup in the tires, and we suspect the resulting fire damaged the brake system, which I discovered in Turn 3 as I was pushing hard to catch back up again. This was an odd issue and every piece of our braking system which we inspected in pit lane was intact and functioning properly, but I suspect fluid just can't stand that. It was a bit scary, but I am all well and not sore, thanks to the Racetech seat, and have full confidence in our brake partners who were in no way at fault for this result."
WEB: Follow the team by visiting www.BimmerWorldRacing.com
Tags