BimmerWorld Driver Development Program, New F30 Chassis Shine At Watkins Glen
July 1st, 2014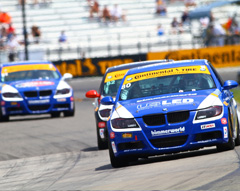 Team's in-house developed pro driver Eric Zimmermann, BMW F30 chassis stand out in NY
With little to show for BimmerWorld's extra effort at IMSA's most recent Continental Tire Series round held at the Watkins Glen International road course, the team is left to rue a fifth consecutive event where a rule imbalance has kept the BMW brand, teams campaigning BMWs and their various types of BMW chassis from getting near Victory Lane.
The Virginia-based BMW aftermarket and tuning experts have asserted themselves as regular contenders for the Street Tuner Championship, but have spent 2014 persevering through a season where brands other than BMW have enjoyed feature status. The last five races have seen Mazda's MX-5 score three straight wins followed by the Honda Civic Si earning the last two, including Watkins Glen, leading BimmerWorld team owner/driver James Clay to bide his time until other ST brands receive some of the spotlight.
"I wish I didn't sound like a broken record this year, but we have now gone through another round where the BMWs just don't have the pace to compete," he said. "IMSA noticed the deficiency and made a small adjustment, but it just wasn't enough to make a difference. We again scored Championship points, and our cars are consistently performing at the top of the marque, but unless we can be on par to win races, we will fall short even on the Championship at the end of the year."
Without the speed to win—at least until more meaningful rules adjustments are made, BimmerWorld has, as Clay noted, relied on overall consistency, supreme driving, and creative race strategy to minimize the damage.
As unlikely as it may seem, the No. 81 BimmerWorld BMW 328i tandem of Greg Liefooghe and Tyler Cooke have used finishes of second, seventh, fifth, ninth, eighth, and 12th last weekend to earn the lead in the ST Drivers' and Teams' Championship. Their rivals–many who have scored multiple wins this year, have often traded a speed advantage for consistent results, but at the current rate, the No. 81 will be easily overtaken in the standings during the final six races of the year.
Departing Watkins Glen, Clay embraced the two key positives that stood out last weekend, beginning with the rapid rise of BimmerWorld Development Driver Eric Zimmermann. Joining respected young pro Corey Fergus in the No. 80 BimmerWorld BMW 328i at the previous round in Kansas, Zimmermann used all of his amateur training under the BimmerWorld banner to record an impressive drive at Watkins Glen, which marked only his second outing in a pro racing series.
"I am proud of Eric's hard work and his success – he has earned it," Clay added. "I knew he was the right guy for the seat when we changed Corey's co-driver mid-season, and he proved it at Watkins. I have a group of customers that reach out to us more often, not only for parts but also for car guidance and even driving advice, and end up becoming a part of the BimmerWorld family like Eric. It is just really great to see him continue to succeed."
Using track experience gained as an amateur, Zimmermann combined his familiarity with Watkins and input from BimmerWorld's season driver corps to find a competitive groove in the No. 80.
"Watkins Glen was a fantastic experience," he said. "Having raced at the track once before was very helpful, but the biggest advantage gained was borne of getting more seat time in the No. 80. Corey and our other teammates continued to impress upon me the need to learn the skill of carrying momentum through the corners and that concept really clicked during qualifying. I was thrilled and, frankly, a little surprised at the time I was able to post. Once I'd put up a respectable qualifying time, I knew that I'd be in a much racier environment come race time and that one good lap wasn't going to accomplish what Corey and I had set out to do. Fortunately, I was able to keep the pace and I found it to be a lot of fun driving more competitively and in typical racing traffic."
Watkins also saw BimmerWorld's new in-house developed turbocharged BMW F30 chassis post one of its most competitive runs. Compared to BimmerWorld's highly developed, race-winning E90-based 328i platform, the F30 328i piloted by Clay and teammate Jason Briedis has only a half-season of on-track activity under its belt, making the No. 84's rapid progress a welcome sign for BimmerWorld customers anticipating race-proven aftermarket components.
A simple mechanical issue kept the No. 84 car from a better result in the end, but as Clay explains, each lessons learned in the Street Tuner class will benefit BimmerWorld's clientele.
"This was a fantastic weekend for our F30 328i, performing at a level to reach the top of the charts in every session," he said. "Then in the race, we lost a differential cooler and had to come in for repairs to prevent bigger problems and that took some time. It is a shame that with all the new technology performing flawlessly, a mundane part took Jason and I out of the running for what I feel was a podium finish. The F30s rate of development is happening quickly, and we continue to work through smaller and smaller items. That, by itself, is very encouraging."
UP NEXT FOR BIMMERWORLD: Canadian Tire Motorsport Park, July 11-13
FOLLOW: BimmerWorld at www.BimmerWorldRacing.com
WATKINS GLEN RESULTS:
No. 80 BimmerWorld BMW 328i (E90), Corey Fergus & Eric Zimmermann: Qualified P21, Finished P13
No. 81 BimmerWorld BMW 328i (E90), Greg Liefooghe & Tyler Cooke: Qualified P16, finished P12
No. 82 BimmerWorld BMW 328i (E90), Seth Thomas & Dan Rogers: Qualified P23, Finished P16
No. 84 BimmerWorld BMW 328i (F30), James Clay & Jason Briedis: Qualified P19, Finished P28
Tags