BimmerWorld Concludes Successful Pre-Season Test at Daytona International Speedway
January 8th, 2014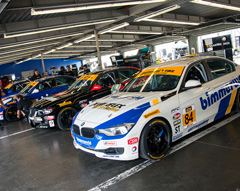 Four-car Continental Tire Series BMW team readies its lineup for a Championship run in 2014
Stability and intelligent growth have been hallmarks of the BimmerWorld Racing team since they joined the Continental Tire Series in 2010. The Virginia-based BMW tuning and aftermarket experts have used their racing program, which features production-based cars, to advance their customer offerings and to extend their knowledge on the pro racing circuit, and that dedication continues.
All of those attributes and initiatives came together last weekend in Daytona Beach, FL, where BimmerWorld unveiled its new four-car BMW Street Tuner team, an increase from three cars in 2013, and the new drivers who have joined a an outfit that has challenged for championship honors since it arrived four seasons ago.
Team owner/driver James Clay presented three of BimmerWorld's proven BMW 328i sedans, built on the E90 platform, for the test, and added more miles to BMW's brand-new F30-based 328i, as the team gained valuable testing data and prepared its crew for the season-opening race at Daytona on January 24.
"The Roar this year was our team's best-ever start to a racing season," said Clay. "The cars arrived at 100 percent and only got better from there. We did a lot of work validating our off-season development work which we are quite happy with. The newly-allowed MCS dampers were one of our most notable changes, showing gains even on a relatively smooth Daytona track. The team executed perfectly and all drivers, new and existing, are on the same page. This will be a great year for BimmerWorld Racing."
Clay also spoke on how the test went for some of the new members of the BimmerWorld team and the ongoing development of the E90 and F30 BMWs.
"The No. 80 car with Fergus and Gleason, who are both new to our team, was the biggest staffing change for us to incorporate at the Roar and they fit in right away," he explained. "It is clear they share our team's work ethic and will be producing results immediately.
"I was also happy to see the progress of the No. 82 with the E90 platform, but I am more excited to have the second new F30 chassis, which the No. 82 will graduate to once the Series adjusts the spec to be competitive, out to help in the development efforts. We're always trying to look ahead, and the test allowed us to continue building our program for the future with what we believe will be the next winning chassis."
TEST RESULTS AND DRIVER QUOTEBOARD
No. 80 BimmerWorld BMW 328i (E90): 15th fastest.
Corey Fergus: "Coming from a front-wheel drive Honda, I had to completely adapt my driving style to get the most out of the rear-wheel drive BMW, which was a fun challenge. We had a successful test and I think we'll be right where we want to be for the first race of the season."
Kevin Gleason: "I was so impressed with BimmerWorld's professionalism and preparation as they had the cars ready to roll 15 minutes before each session and didn't miss a beat all weekend. With their structured approach and strong driver lineups across all four cars, it is shaping up to be a very successful season."
No. 81 BimmerWorld BMW 328i (E90):4th fastest.
Tyler Cooke: "The test went great. We learned a lot from all the changes we were making all weekend. Our BimmerWorld crew did a flawless job, and I predict a very good year for all four cars."
Greg Liefooghe: "I had a great season with Tyler last year; he really became one of the drivers to beat in the series and we picked right up where we left off. We have greater expectations in our second year driving together and if you look at how well the test went, I think we can feel very confident of what's awaiting us this year."
No. 82 BimmerWorld BMW 328i (E90): 8th fastest.
Dan Rogers: "Seth and I are glad to be back driving together for yet another season, the car performed well at the Roar, we got a lot of testing in and that should bear fruit at the race in two weeks. On a personal note, we had a great time getting acquainted with the new drivers, and reacquainted with returning friends."
Seth Thomas: "It was great to be both back at Daytona on the track and back in the No. 82 CRC BRAKLEEN® BMW. The BimmerWorld crew worked hard making the car faster and easier to drive. I see a lot of podiums coming for the BimmerWorld team in 2014."
No. 84 BimmerWorld BMW 328i (F30):12th fastest.
Jason Briedis: "Being my first season with BimmerWorld, I was very impressed with the level of professionalism and preparation across the entire team. James and I are working well together and are ready for what this season holds."
James Clay: "The team put a lot of time this winter into the engine calibration for this car, and while we weren't given control of all the systems that make power and reduce lag in the factory ECU, we have the Bosch Motorsport part running reliably. We have learned a lot about this car and we are getting close. We're learning every lap we turn, and the car is coming along quickly."
Follow the team as it prepares for the first round of the Continental Tire Series held on January 24 by visiting www.BimmerWorldRacing.com
Tags