BimmerWorld Closes Promising 2015 Season with Top-7 at Road Atlanta
October 12th, 2015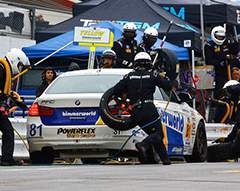 Steady rain made IMSA's Continental Tire Series season finale at Road Atlanta a highly unpredictable event. When it was over, the BMW tuning and aftermarket specialists at BimmerWorld were able to bring one of their turbocharged 328is home in seventh place with Tyler Cooke and Andrie Hartanto behind the wheel of the No. 81 BMW F30 chassis. The sister No. 84 OPTIMA Batteries BMW F30 of team owner/driver James Clay and Jason Briedis weren't as fortunate in the adverse conditions, but persevered to record a valuable finish in Street Tuner class.
"The weather was an unpredictable mix of fair and rain all week, and if we learned anything leading up to the race, it was that the forecasts were wild guesses," Clay said. "We had solid cars that, as testing progressed, became very quick in the dry and predictable in wet conditions. For the race, we took our best guess and started on dry tires which didn't pan out. Andrie was able to hang on in the No. 81 and move forward as the field shuffled but Jason in the No. 84 car lost ground on the start and was never able to regain in the tough conditions."
2015 marked BimmerWorld's first season of solely focusing on the BMW F30 platform, and as Clay explains, the lessons learned and partnerships that were formed will produce more speed and success when the new season gets under way in January.
"We continued to learn a lot this year as we focused on making the F30 drivetrain reliable," he said. "We made more prudent decisions at times which made us less competitive at a brutally hot Sebring and CoTA, but we increased the lifespan of our powerplants significantly this year through a variety of initiatives internally, and from our new engine partners at Roush.
"We had a true development year this year, and the off-season will complete the process as we are able to resolve our long-term projects, and finally complete the heat management work which is the major piece of this engine."
The seventh-place finish was a positive outcome for Cooke, who's developed into a bright young team leader, and for Hartanto, who distinguished himself as one of the fastest and most consistent rookies in the series.
"Starting on slicks was challenging and it took everything I had to not slide off the track," said Hartanto, who started the race in the No. 81 BMW F30. "Once the guys put us on the wet tires, the car really began to work well and allowed us to climb up through the field. Huge credit needs to be given to the team for putting together a car that was so awesome in the rain and also for their amazing work in the pits which enabled us to jump out in the lead.
"And it's been a pleasure to drive for BimmerWorld and team up with Tyler. I thought we worked really well together and he was helpful in getting me up to speed. It was such a huge boost to run up front with the fastest drivers in my first season, especially with such tough competition. Being a part of a team that was so easy to fit into made that easier. Everyone on the team welcomed me with open arms and that really meant a lot. This team is one of the best in the business and I'm so proud to be part of BimmerWorld."
For Cooke, who transitioned into the veteran role of the closing driver this year, Road Atlanta—and the season as a whole—was a positive experience.
"Andrie did a great job climbing his way to third place, and the team did a great pit stop which jumped us to the lead," he said. "The race for the beginning of my stint wasn't too bad but the rain got worse and worse and the visibility got worse. The team gave us a great car and walked away with a seventh and I am very happy with that. The team, and Andrie and I have made big strides throughout the year to help the car and ourselves.
"Andrie's been a great teammate since the first day at Daytona. He has shown his skills all year with how fast he is and how hard he races to go to the front. Andrie has a lot of passion for it and was a really big part of the BimmerWorld family. It was a great year with a lot of learning and good outcomes. Thank you to Andrie, James, and the whole BimmerWorld crew for making 2015 a great season!"
Although Briedis and Clay wanted more from their Road Atlanta result in the No. 84 OPTIMA Batteries BMW F30, the effort expended by their pit crew and engineers was undeniable.
"For us, the final round didn't quite go as hoped; we ended up having to stay out on slick tires longer than we wanted to, and that pretty much determined our outcome," Briedis said. "Our sister car had an excellent race, and it was awesome to see the crew help get it to the front with strong pit work. James has assembled an extremely talented group of people, and to see them perform week in and week out is a treat. Thanks again to the whole BimmerWorld team for an enjoyable season."
With BimmerWorld's turbocharged BMWs ready to visit Victory Lane in 2016, Clay is looking forward to welcoming a few new faces to the program to take part in the journey.
"The F30 has shown serious potential all season and has led races and topped the charts," he said. "We have learned along the way, and the package continues to get better and more consistent. After our pending offseason to implement some work that has been in the pipeline for months, and testing at the Roush facility which can duplicate the brutally hot conditions we can face during the season in a test cell, we will have the final pieces of the puzzle and be ready to kill it in 2016!
"We have consistent staff on both sides of the wheel, but we will be looking for 1-2 drivers and a crew member or two at the top of their game. This BMW has been as always an awesome car to drive and develop, and we are ready to reap the results of a lot of hard work."
FOLLOW BIMMERWORLD AT: https://www.facebook.com/bimmerworld
STAY UP TO DATE WITH BIMMERWORLD NEWS AT: http://www.bimmerworldracing.com
ABOUT: BimmerWorld is renowned as a leader in BMW aftermarket and tuning expertise, and competes in the Continental Tire Series with a pair of BMW 328is (F30) where the Virginia-based outfit has become a routine winner and Championship contender.
Tags