BimmerWorld Announces IMSA Lineup for BMW 328i Turbo Continental Tire Series Campaign
December 22nd, 2015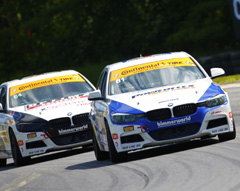 Virginia-based BMW aftermarket and tuning experts BimmerWorld have confirmed its driver lineup for 2016. BimmerWorld newcomers Jerry Kaufman and Kyle Tilley will share the turbocharged No. 81 BMW 328i, and team owner/driver James Clay and BimmerWorld veteran Tyler Cooke will share the No. 84 OPTIMA Batteries BMW 328i.
Built on the F30 platform, BimmerWorld introduced BMW's 4-cylinder turbo coupe to IMSA's Continental Tire Series in 2014. With two seasons of exceptional promise recorded in the Street Tuner class, Clay expects the inbound tandem of Kaufman and Tilley, and his partnership with young IMSA standout Cooke, to steer BimmerWorld and its F30s to the front in 2016.
"It's no surprise that I am excited about our new BimmerWorld lineup," Clay said. "Tyler has grown with our team and turned into a formidable driver in the Continental field, and through OPTIMA Batteries' support, we'll be able to drive together for the 2016 season. We also continue to find and develop new talent, and the addition of Jerry Kaufman and Kyle Tilley puts another strong BimmerWorld 328i turbo combination on track. We have an experienced and capable team, the support of a tremendous group of sponsors, and this group will make for a solid overall package."
Cooke has risen up the ranks with BimmerWorld to become one of the most promising talents in the ST field. Building off a breakout season 2015, he'll continue his ascension with Clay, a race-winning veteran, to form a championship-caliber pairing in the OPTIMA Batteries BMW.
"I expect very good things from the both of us," Cooke said. "James has two years under his belt with the car, and I spent last season racing the F30, so we both know it very well. Both BimmerWorld 328is proved their potential last year and next year it will really show. It's been great to be teammates with James for the last three years; he's taught me a lot, and now co-driving with him will bring great success and hopefully a championship. Jerry and Kyle are going to be a great fit for the team and I look forward to working and driving alongside them as well."
BimmerWorld's ongoing efforts to groom talent through club racing, and from the BMW Car Club of America, in particular, will see Kaufman make the leap to IMSA.
"I've had a lot of success in the BMW CCA, winning rookie of the year and two national championships, and much of that success is due to my relationship with James Clay and his BimmerWorld team," Kaufman said. "IMSA is the pinnacle of road racing in North America, and the Continental Tire ST class is extremely competitive. This is going to be a big step up in competition, and BimmerWorld is one of the best in the business."
For Tilley, who serves as Kaufman's driver coach and has raced throughout the world in a variety of cars, the shift to a BimmerWorld-built BMW 328i presents a significant opportunity next year.
"I am thrilled to be back in a full-time seat, and not only am I driving with a coaching client, but a close friend, and it is going to be a fun year!" he said. "I cannot express how grateful I am to the Kaufman family, James Clay, and all of his partners at BimmerWorld for the opportunity. With Jerry's existing relationship with both BMW and BimmerWorld, the F30 was the obvious choice. Having had the chance to test the car at VIR, I am confident that we have the potential to be a competitive package.
"We are under no illusion as to how competitive ST is; however, I think it's fair to say that both Jerry and I will be disappointed if we aren't at the sharp end of the action. Jerry is fantastic driver who is very serious about his racing, and I am looking forward to helping him develop even further over the course of 2016."
Clay, along with his BimmerWorld mechanics and engineers, and numerous technical partners, has worked tirelessly during the brief offseason to take the next step with the BMW F30 package. With the new season set to start in just over a month at Daytona International Speedway, their efforts will be put to the test as a new Championship pursuit begins.
"The offseason has been a busy one for us, focusing on an engine and cooling package that gives us the same speed we showed in 2015 with more consistency," Clay said. "This little turbo 4-cylinder makes good power, but it also makes a lot of heat in racing conditions. We had to look a bit outside the box to come up with a total solution to keep things happy under the hood, but with our Roush Performance engine partners, along with technical partners C&R Racing and Electronspeed on the job, really came through with a package proven to work. I am excited to get on track with the new equipment!"
FOLLOW BIMMERWORLD AT: https://www.facebook.com/bimmerworld
STAY UP TO DATE WITH BIMMERWORLD NEWS AT: http://www.bimmerworldracing.com
ABOUT: BimmerWorld is renowned as a leader in BMW aftermarket and tuning expertise, and competes in the Continental Tire Series with a pair of BMW 328is (F30) where the Virginia-based outfit has become a routine winner and Championship contender.
Tags