BimmerWorld Announces Driver Lineups for Two-Car Turbocharged BMW Continental Tire Series Program
December 18th, 2014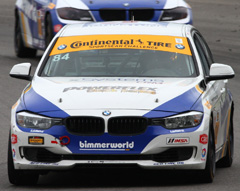 Recent news from the front-running Continental Tire Series BimmerWorld Racing team confirmed the veteran program would field two turbocharged BMW 328s next season, and drivers for both cars have now been nominated by the perennial Championship contenders.
Team owner/driver James Clay and Jason Briedis, who made his Street Tuner debut in 2014, will continue in the No. 84 BimmerWorld entry built on BMW's F30 chassis platform. They will be joined by BimmerWorld's young veteran Tyler Cooke, who marks his third season with the BMW aftermarket and tuning specialists, and new BimmerWorld driver Andrie Hartanto, who brings years of regional touring car experience to the No. 81 BMW.
BimmerWorld spent the 2014 ST Championship developing the F30 platform as the future model of choice in IMSA's top-tier production-based series, and as Clay explains, 2015 should be the year where BMW's forced-induction drivetrain and renowned handling combine for great success.
"This is gearing up to be the year of BMW turbo power!" he said. "We have over a year in the development of this car and a new engine partner onboard for 2015 that has smoothed out some of our issues, and I am very much looking forward to displaying the potential of this new BMW platform."
Clay's team made headlines as the first North American racing team to win with the BMW 328 E90 chassis, and expects to put all of BimmerWorld's BMW build and development expertise into achieving the same outcome with the F30.
"We have played with turbos for a while now, but in keeping with the mantra of our company, racing a product is really what pushes our boundaries and allows us to really learn at the limits of a car," he explained.
"With the future of BMW headed in the turbo direction, this is a very timely move for our team, and our business as we adopt best practices to apply to new products and customer work, in the F30 3 Series, the new M3/M4 cars, and the multitude of other turbo platforms."
Making the complete shift from E90s to F30s will be aided with consistency in the cockpit of the No. 84.
"I was thrilled when Jason came back for another year in the 84," Clay added. "He is an excellent driver and we made gains as a team through the season last year. It is always nice to skip the settling-in process and continue momentum from the previous year into the new season, and I like our chances for results this year."
Briedis is aiming higher than ever as he looks to the new season.
"Like everyone, our goal is the Championship, but that starts with podium finishes, so I am hoping we can grab some of those," he said. "Definitely staying in the same car and continuing with James will be a major benefit. It will be nice to build on what I learned in 2014 and take that next step to being up there battling week in and week out."
Cooke spent two seasons learning from BimmerWorld's Greg Liefooghe, who will move to a different car within Clay's racing operations next year, and with the chance to demonstrate everything he's learned, the emerging pro is looking forward to sharing the No. 81 with Hartanto.
"I am ready to take the leadership role along with Andrie, and I've already learned a lot from Greg, and all the people at BimmerWorld," he said. "I'm ready to make my third year with the team an even bigger success after running in the top-5 all last year. And I'm excited to be in the new F30 chassis after seeing their potential last year.
"Moving from driving with Greg to Andrie is exciting for me; I've heard many good things about him and his results show how good he is. Like everyone else, we want to win a race, and better than that, a Championship, and I think we have a really good shot to do that with all the hard work BimmerWorld puts into this program."
Hartanto has extensive chassis building, development and racing experience that will be invaluable for the No. 81 entry, and says stepping up to Street Tuner with BimmerWorld is the culmination of everything he's worked towards.
"It has always a dream of mine to run a full season in professional racing, and to join such an established and competitive team like BimmerWorld Racing is icing on the cake," he said. "While I've been racing for a number of years and have even dabbled in professional racing, I'm still a rookie. I'm excited to learn a lot from Tyler and my other teammates, James and Jason.
"Even though I'm the old guy when compared to Tyler, I'm just as hungry and always want to win. It will be really hard with such tough competition out there, but we will give it our all and I'm confident that we have a good chance at the Championship."
Follow the BimmerWorld Racing team as they prepare for the first official test of 2015 at Daytona International Speedway on Jan. 9-11 by visiting www.BimmerWorldRacing.com.
Tags