BimmerWorld Aiming for Success on Home Turf in Virginia
August 20th, 2015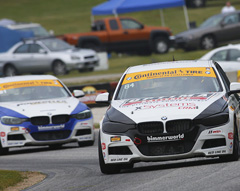 It's another homecoming race for the BimmerWorld team as IMSA's Continental Tire Series descends on Virginia International Raceway. The Dublin, Va.-based BMW aftermarket and tuning experts have turned countless miles at VIR during major development programs for numerous chassis platforms, and with the latest IMSA race in their backyard, they'll get to race in front of a highly supportive crowd.
"I always love racing at VIR, whether it's with the pro cars, or some form of club event – it's just a fantastic track," said BimmerWorld owner/driver James Clay. "Of course it is always awesome to be surrounded by friends and family on a race weekend as well. We have tested here this year and it is the home track for two of our BMW drivers, so I am excited for the home field advantage this weekend."
BimmerWorld returns to race at VIR with a pair of brand-new turbocharged BMW 328is which are built on the German marque's F30 platform. Clay and teammate Jason Briedis will pilot the No. 84 OPTIMA Batteries BMW, and Tyler Cooke and co-driver Andrie Hartanto will represent the team in the sister No. 81 entry. Competing exclusively with the BimmerWorld-built F30s for the first time at VIR is an important milestone after the team developed, campaigned and won with BMW's E90 platform for almost a decade.
As Clay's team did with the E90s, the F30s have been subjected to intense R&D and constant refinement as BimmerWorld uses its racing endeavors to tailor high-performance products for its customers.
"The F30 has made wonderful strides this year, and while we still have turbo development in the works which will be the completion of the 'full package' and allow us to deal with the heat the engine generates, we have a solid package," said Clay.
"We are looking at a hot race weekend in Virginia which isn't in our favor, but we will have the car setup dialed and should be looking at a good result. The takeaways are significant whenever we race, and our customers will get to see BimmerWorld making more strides with the F30 platform in every session this weekend."
For Jason Briedis, who's close to completing his second season of Continental Tire Series action, the chance to race at VIR is regarded as a special occasion. The technical, undulating road course is housed within Virginia's lush countryside, making it a treat to view from inside the car, and with its high average speed, Briedis says completing a quick lap around the 3.27-mile facility requires great precision.
"The facility itself at VIR is beautiful," Briedis remarked. "The rolling hills and barn-style buildings make for a very scenic environment. As for the track, South Bend is probably the most challenging corner. It seems like there is always another tenth or two there if you are willing to dig deep. And then there's the run up through the Esses, and getting out of Oak Tree is also very important. VIR demands your best on every lap."
FOLLOW BIMMERWORLD AT: https://www.facebook.com/bimmerworld
STAY UP TO DATE WITH BIMMERWORLD NEWS AT: http://www.bimmerworldracing.com
ABOUT: BimmerWorld is renowned as a leader in BMW aftermarket and tuning expertise, and competes in the Continental Tire Series with a pair of BMW 328is (F30) where the Virginia-based outfit has become a routine winner and Championship contender.
Tags