James Clay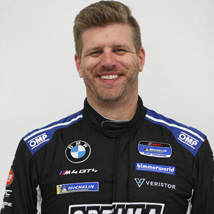 2020: With full race schedules in the IMSA Michelin PILOT Challenge and SRO TC America series, Clay pushed the team hard enough to win the Driver's Championship in his M240iR and bring the team to second place in the overall standings of the TC series while also pushing BMW into fourth place for the Manufacturer Championship in IMSA.
2019: Clay, along with teammate Devin Jones, earned third place in the GS standings in 2019 with three podiums and eight top-ten finishes which also landed the duo top-finishing BMW team honors in the GS class. In 2020, Clay will continue his success with Jones in what will be Clay's 11th straight season of IMSA endurance racing.
2018: Clay and Tyler Cooke teamed up once again for the final year of the IMSA Continental SportsCar Challenge, this time behind the wheel of their new No. 82 BMW M4 GT4. With three podium finishes in the Grand Sport (GS) class plus a big victory in the season finale, they set the stage for further development and even more success when Clay teams up with Devin Jones for the 2019 season in the IMSA Michelin Pilot Challenge series. James will also be competing in several other motorsports events across the globe, including the Pirelli GT4 America SprintX with Epic Motorsport's Rand Mueller.
2016-17: Teamed with BimmerWorld driver Tyler Cooke to further develop and maximize the F30 BMW 328i. The driving partnership solidified the potential of the turbo 4-cylinder BMW as the F30 328i achieved a world's first pole position, and the car and driver combination achieved multiple pole positions as well as the first-ever podium finish for a turbo F30 BMW 328i.
2014-2015: Continuing development of the F30-platform BMW 328i with Jason Briedis as the F30 became a true series contender.
2013: Worked during the season to develop BimmerWorld's new F30 chassis, the first turbo BMW ever raced professionally in North America, and the first 4-cylinder F30 to be raced in the world. Finished top-10 in the final 2013 race as proof of concept.
2012: Captured three podium finishes with co-driver John Capestro-Dubets en route to a fourth-place finish in the Driver's Championship, scoring points to claim the Manufacturers' Championship for BMW. Finished second at the historic inaugural Indy race.
Previously: His first race was a BMW Club Racing event at Pocono in 1998. 2001 ECR Enduro Series Champion. Won five SCCA Regional ITS events in 2001 in a BMW 325. Followed that up by winning four times in six starts in 2002 SCCA Regional ITS races. In 2002, ran three SPEED Touring Car races in a BMW 325is, with a season-best finish of 14th at Washington, DC. In 2003, competed in his first full season of SPEED Touring Car competition, scoring his first top-10 finish at Road Atlanta. Picked up three top-10 finishes in 2004, including his first top-5 (Road Atlanta) and finished 16th in points. In 2005, collected six top-10 and three top-five finishes in 10 starts, driving a BMW325i. Finish 10th in the Championship points. First North American team and driver to develop the new BMW 3 Series in 2007, tied career-best finish of third at Road Atlanta and set fastest lap of the race. Claimed first professional win at Road America in 2008, qualifying top-10 in eight rounds that season. Finished 8th in the SPEED World Challenge Touring Car Championship in 2009 with two fast race laps, two podiums, and two Hard Charger awards. Shifted focus to professional endurance racing in 2010 leading development of three new platforms over the past half-decade.
Personal: A Virginia native, James's passion for cars and speed were quickly apparent after his 16th birthday, but grew exponentially during his EE and MBA days at Virginia Tech, leading him to quit gainful employment and focus on building his then-small but growing BimmerWorld company. James still plays with cars and otherwise lives for the summer jet skiing and grilling season.
Tags