Charlie Postins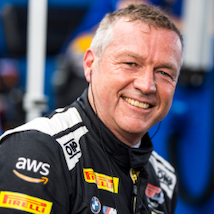 2017-2021: Following a several-year hiatus from racing to focus on his career, Postins re-entered the sport with a series of race outings at the challenging Nurburgring in Germany, often with James Clay as a co-driver. Charlie has competed in the legendary Nurburging 24-Hour race four times; in a BMW M240 on three occasions and once in a BMW M4 GT4.
His best result at the twice-around-the-clock race was in 2020 when he finished the Challenge of the Green Hell in fourth place in class. Charlie also secured a class win in the BMW M4 GT4 in 2022 at the qualification race for the 24-Hour race.
In 2017, Postins took class victory along with co-driver James Clay in the Thunderhill 25-hour race in the EO class. This flag-to-flag victory came in El Diablo Racing's BMW E46.
Previous: In the earlier years of his motorsport career, Postins raced in his home country of England. Standout performances included finishing third in the 1996 Renault UK Clio Cup and fourth in the 1993 British Formula First Championship.
Charlie moved to San Diego from the UK in 1996 to take up a position as an automotive design sculptor with Nissan Design America, following a career clay modeling throughout Europe for manufacturers such as VW, Saab, and Porsche. 2007 saw Postins shift gears from the automotive design world to assist in his wife Lucy's pet food startup. This company, The Honest Kitchen, is now recognized as the leading Human Grade pet food in America and is sold throughout North America. Charlie currently serves as a Board member for the company.
Feeling the draw of automotive design once again, Charlie is now busy sculpting automotive shapes of the future through his race and design company, Exhall Automotive.
Tags