BimmerWorld Ready for Sebring After Long Daytona Break
March 17th, 2015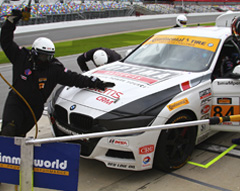 The long annual pause after the first Continental Tire Series race of the year at Daytona International Speedway comes to an end this week when teams descend on the legendary Sebring circuit. More than six weeks have passed since BimmerWorld's turbocharged BMW F30 engines fell silent at Daytona, and team owner/driver James Clay says the extra time has been put to good use.
"The breaks in the schedule at the start of a new season are always appreciated and well-used," he said. "The BimmerWorld guys have been primarily focused on suspension and engine tasks for our F30 chassis duo, with a quick bit of testing at VIR thrown in the mix. We made a big change in the off-season and Daytona was an indicator for us, but Sebring will be the true proof of concept."
Sebring's rough and punishing track surface will also put BimmerWorld's F30-based BMW 328is to the test.
"We have learned so much on the F30 platform since our Sebring race last year, which was not one of my fondest memories," Clay added. "We had a solid car at Daytona and I think we will see even better at Sebring. I have been anxious to get back to racing since the checkered flag at Daytona – we have a lot to achieve this year and I am eager to get to it!"
With just one year of on-track development with the F30 platform, BimmerWorld learns more about the car's potential at each race, and with that knowledge in hand, better aftermarket and tuning packages are offered to Clay's customers.
"Our BimmerWorld performance and parts business is built on the foundation of a close relationship with our race team and implementing what we work on there," he explained. "This is a part of daily life at BimmerWorld with information constantly streaming into the sales office, to our development team, and to our customers. In the very near future, we will be launching much more heavily into the forced-induction BMW cars at the in-depth level that BimmerWorld customers are accustomed to. The F30 is teaching us a lot about running BMW forced induction at the limits."
PRE-RACE QUOTEBOARD: Sebring
No. 81 BMW 328i: Tyler Cooke and Andrie Hartanto
Cooke: Sebring is a track I've been watching races at since I was a little kid. Seeing all the names and winners that come through that track makes up the history and the Sebring we know today. Last year all four BimmerWorld cars had good finishes in sight and showed that we had the pace. The F30 last year was quick and strong, and I think Sebring will be a good finish for both cars. It's always one of our most exciting races of the year.
Hartanto: It will be my first time at Sebring, and I've been spending a lot of time learning what I can on iRacing. This will come down to how quickly I can acclimate myself to the track. I'm anxious and hopeful that we will do well. I am a quick learner, but more importantly I have great team mates that will help me to learn even faster.
No. 84 OPTIMA BMW 328i: James Clay and Jason Briedis
Briedis: The F30 showed potential last year, but we had some issues and were not able to realize it. I am looking forward to seeing how we can do this time around. There will be some other new cars making their debut at this event so it will be interesting to see how it all plays out.
FOLLOW BIMMERWORLD AT: https://www.facebook.com/bimmerworld
STAY UP TO DATE WITH BIMMERWORLD NEWS AT: http://www.bimmerworldracing.com
ABOUT: BimmerWorld is renowned as a leader in BMW aftermarket and tuning expertise, and competes in the Continental Tire Series with a pair of BMW 328is (F30) where the Virginia-based outfit has become a routine winner and Championship contender.
Tags
Tags not found
RELATED ARTICLES
Related article(s) not found