BimmerWorld Races Into Halfway Point Of Season At Elkhart Lake
June 20th, 2012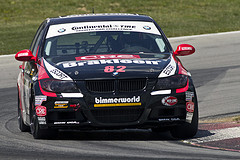 With five rounds down and five left to go, BMW experts BimmerWorld target this weekend's race in Wisconsin to move further up the championship standings
In a perfect world, all of the different types of cars in GRAND-AM's Continental Tire Series Street Tuner division—big, small, turbo and naturally aspirated—would be competitive at every one of the 10 tracks the series will visit this year.
The reality, as most teams have learned, is that the rules favor certain types of cars from year to year, and depending on which end of the rules a type of car falls within, some tracks are bigger challenges than others.
For the BMW experts at BimmerWorld Racing, the beloved 4.0-mile Elkhart Lake track has provided some incredible highs in the past, including team owner James Clay';s first professional win while driving the BMW E90 (328i) chassis, but heading into this weekend's race in Wisconsin, the three-car E90 team is focused more on earning points than planning to win on sheer pace.
"I think our E90-platform cars are top performers in braking and in the turns now, which is no small feat being between 100 to 500 pounds heavier than the rest of the field," said Clay. "But unfortunately, Road America is a track that also requires a dose of straight line speed, and with the current restrictions on our cars, our strategy is more to focus on consistency and try to be at the right place at the right time for someone to give us a position.
"This is a tough strategy to go win a race, as drivers in our series rarely give away first, but until we get to use a little more motor relying on the solid BimmerWorld equipment and team is our best approach and hopefully good enough to put us near the front again."
Teamed with John Capestro-Dubets in the No. 80 BimmerWorld 328i, Clay and "JCD" are coming off a fifth-place finish at the most recent round in Mid-Ohio where the sophomore GRAND-AM driver executed a flawless race to the finish line.
"I was super proud of John's performance in the last round in Mid-Ohio," Clay continued. "He fought his way forward and defended his position to lock down a solid finish. We have worked some on analysis between rounds and I think his next stint will be even better. We are halfway through the season and we are getting the momentum we need to close out the year strong."
Sharing the No. 81 BimmerWorld BMW with veteran pro driver Gregory Liefooghe has been the perfect recipe for GRAND-AM rookie David Levine in 2012. In addition to the duo winning Round 2 in Alabama, Levine is currently second in the Rookie of the Year standings and he hopes to use local circuit knowledge to his advantage while RoY honors are within his grasp.
"My rookie season in the series has gone much better than I ever could have imagined," he said. "I am really looking forward to Road America this weekend. It is my home track. I know the track extremely well and will be pushing myself to get the most out of the car. I will not be satisfied with anything but a top 5!"
Staying with the smaller cars on Elkhart Lake's long straights is too much to ask for normal-sized cars like the 328i, but as Clay alluded, the BMW's enhanced handling and braking characteristics should help BimmerWorld to dominate the corners.
As Seth Thomas explains, he and Dan Rogers, co-drivers of the No. 82 CRC BRAKLEEN® BMW 328i, along with the rest of the BimmerWorld fleet, plan on taking the fight to the rules-favored cars this weekend.
"Our Performance Friction brakes are going to be our biggest advantage at Road America," he said. "With the long straights, where we will be stretching the legs of the BMW inline-6, we need a good set of brakes to slow down our cars lap after lap. If there are long green runs then this will be our advantage toward the end of these runs.
"If there aren't long green runs then the BMWs long wheelbase will help us to be quick in the sweeping fast corners leading onto the main straights at Road America. Overall I think the BimmerWorld BMWs are going to be fast and ready to compete this weekend."
Follow BimmerWorld's progress as it races at Elkhart Lake by visiting www.BimmerWorldRacing.com, and watch the race when it's airs July 8th at 12 p.m. ET on SPEED.
Tags