BimmerWorld Celebrates a Strong Team Finish in Ohio
June 22nd, 2010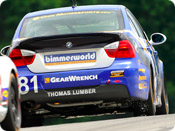 Seth Thomas and Bill Heumann take command of EMCO Gears Classis race at Mid-Ohio for their second win of 2010
Two wins from three races. One pole position. 41 laps led. Lead in the driver's championship. Lead in the team's championship. Not bad for a weekend's work for BimmerWorld Racing.
Ask BimmerWorld owner James Clay if he likes the Mid-Ohio circuit – the site of his team's first professional win back in 2007 – and he'll not only give you a resounding 'Yes!' but he'll also tell you he wouldn't mind if every round of GRAND-AM's Continental Tire Sports Car Challenge series was held as the twisting 2.2-mile Ohio track.
After such a positive rebound from the frustrating turn of events at Watkins Glen, Clay was happy to see his team move on and move up in the Continental Tire Sports Car Challenge series after a dominating weekend at Mid-Ohio.
"We are all very proud of this weekend's results and Mid-Ohio has been very good to us over the years. The weekend started out right when after the first session, we were really left scratching our heads to decide what we could do to make the cars better. You never want to say 'that's good enough' but we were really quite pleased with our performance off the trailer. We instead spent a little time experimenting as drivers and then working hard on both a specific qualifying and race setup. The team did a ton of hard work in the shop preparing for this weekend and that allowed us to succeed."
While it looked like Clay and teammate David White, the pole sitter for the EMCO Gears Classic, were the early favorites for the win, the drivers of the No. 80 BimmerWorld/GearWrench BMW E90 were forced to settle for a fighting fourth-place finish. The win would instead go to Seth Thomas who took over from Bill Heumann and continued to speed off into the distance, leading the final 25 laps of the 81-lap race to post BimmerWorld's second victory in the span of three weeks. Putting in another fantastic drive, the GRAND-AM rookie Heumann says his rapid growth and success is becoming easier to embrace with each race.
"In the last two races I feel like I have continued to make a lot of progress and I am feeling very comfortable and confident on the track," said Heumann. "Since the racing in this series is so tight, it isn't just a question of if you can drive a few fast laps. It is how to run consistent fast laps while competitors are all around you bumping and jostling, GS cars are cutting through, and cars are going off track and jumping back on. It is very exciting and a lot of fun. With the help of the team and a lot of hard work from Seth we have gotten to where I am just a tick off the top pace and getting faster every race."
As he's done repeatedly in 2010, Thomas credited the hard work from his team and the advantage his brakes provide for allowing him to carve through the field at Mid-Ohio – a track where cornering and stopping are most critical to running up front.
"Everybody on the team has been saying the same thing all weekend – the BimmerWorld/GearWrench cars were hooked up as soon as we rolled off the trailer. Bill gave me the car in top shape. All of this made my job easy during the race. The car during the race was handling like it was on rails. And part of racing is luck. Luck was with me today as I was able to use other cars to help make my passes easier. And as we have said all year the car was really the best under braking. I could use the consistent Performance Friction brakes lap after lap making pass after pass. Teams are free to choose which brakes they want to use, and we're thrilled to have the best in the business on our cars."
The No. 81 BMW's fastest race lap was just the fourth fastest in the ST class, but Thomas and Heumann were able to run those fast laps consistently. This allowed Thomas to stretch his lead as the race drew to a close, but with a late caution flag, the Georgia native saw the margin evaporate. It made for a harrowing run to the checkered flag.
"There was a stalled car parked at the entrance to pit lane where it starts to go downhill. I remember thinking there is no way they will bring out the caution for this, but it did happen. I had a four second lead at this point that became erased. The ST top-5 was mixed in with the top-5 of the GS class. This made the last few laps chaotic as each class was fighting for position. I had more contact after this caution than I did in the previous 40 laps. Throw in the contact with the low fuel light coming on the last couple of laps and it was nerve racking. It wasn't easy, but winning in the series has never been easy."
If finishes of first and fourth at Mid-Ohio could be described as 'highs and lows,' James Clay and David White will go home satisfied with their performance. White, who earned his second pole position out of seven races – both in his rookie season – has marked himself as a man to watch in the Street Tuner class. While his poles and his efforts in leading races might look easy from the outside, he says it is far from it.
"It's really not coming that easily; the speed is the product of a lot of hard work by the whole BimmerWorld/GearWrench team. The cars get better every race, which makes our job as drivers that much easier and allows us to focus on getting all of the speed out of our BMWs. I am very happy with my growth as a driver this season and feel that I am a much better racer now than I was just six months ago. I would have certainly liked to have had some better race results this season but I'm confident that you will see James and me on the podium soon."
After watching White lead the first 16 laps, Clay was hoping the day would end with the No. 80 BimmerWorld/GearWrench car in Victory Circle, but instead, he watched as the sister No. 81 took its second win of 2010. As both the owner and a driver within the team, Clay was ecstatic to see Thomas and Heumann win, but admits he wouldn't mind taking the next victory with co-driver White.
"I have been in a bit of a slump as a driver, but I have been working hard and I finally made the change in driving style I needed to provide results in these specific cars. I was fast this weekend and knew that out of the box we were capable of standing on the top step on Saturday. Unfortunately, as close as this series it, there are multiple cars that are capable of the same and we lacked a little luck at a critical point in the race, so the result I wanted wasn't there. However having a team car take the checkered first runs a close second to doing it myself and taking the lead in the championship dogfight is an even better step. I am leaving Ohio happy, but still hungry."
With BimmerWorld now leading the driver and team championships by a scant one point advantage, the final three rounds will place a premium on making it to the finish ahead of their rivals. As Heumann shares, it's impossible to protect such a small championship lead – they will have to battle on every lap until the final lap of the season finale at Miller Motorsports Park in Utah.
"It is nice to be the leader and let the other guys try to figure out how to catch us. It was pretty disappointing to be 13 points down after the Watkins Glen fiasco. We knew we needed a good race at Mid-Ohio to stay in the championship hunt. The fact that we now have a one point lead really just means we have kept ourselves in contention. It is way too competitive a series to be defensive at this point. We knew this is where we wanted to be when the season started and we just need to keep racing like we have been racing all season."
Watch the broadcast of BimmerWorld's Mid-Ohio victory June 26th at 1 p.m. ET on SPEED, and learn more about the team and their sponsors at www.BimmerWorldRacing.com.
###
Courtesy: BimmerWorld Media Services
[email protected]
More information about the team, cars, and drivers can be found at www.bimmerworldracing.com
Information on BimmerWorld's Customer Car Services can be found at www.bimmerworld.com
Details on PowerFlex Suspension Bushings can be found at www.powerflexusa.com
Tags
Tags not found
RELATED ARTICLES
Related article(s) not found