Nick Galante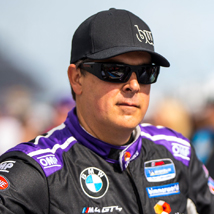 2020: Back at home with the BimmerWorld team, Galante drove with his usual perseverance and tenacity to help push BMW into fourth place int he Manufacture's Championship.
2019: Galante finished in the top ten of the intensely competitive TCR class in the IMSA MICHELIN Pilot Challenge series, and is returning to his winning roots with BimmerWorld Racing in 2020.
2018: Now a two-time Champion in the IMSA Street Tuner class, Galante claimed his last title behind the wheel of a BimmerWorld BMW F30 328i in 2018.
2017: Galante followed up his successful 2016 season championship win in the ST class with a strong third-place finish in 2017.
Previously: In 2007, Galante competed in and won the scholarship for the F3 Jim Russell Championship Series and in the following two years won the Masters F3 Championship titles. From 2011-2014, Galante began his professional driving debut in IMSA's Continental Tire Sportscar Challenge and drove his first full season in 2015, finishing tenth overall in the top GS class.
Personal: Born and raised in Greenfield, Mass., Galante found himself with a broken back after a snowboarding incident in 1998 and knew that if he ever got out of the hospital he would follow his life-long dream of racing cars. Soon after recovering, he began accomplishing his mission to race, eventually joining the BimmerWorld Racing team in 2018.
Tags