Devin Jones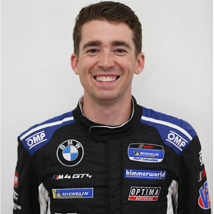 2018: Jones enjoyed an exceptional year with BimmerWorld in 2018, winning four races, finishing on the podium nine times, and winning the ST championship in its final year. Jones will be joining team owner and driver James Clay for the 2019 season, co-driving the No. 82 BMW M4 GT4 and working toward another championship in the IMSA Michelin Pilot Challenge series.
2017: Jones had a successful season racing in the ICTSC in a Porsche Cayman while also making his debut in the NASCAR Xfinity series at Watkins Glen.
Previously: In 2013, Jones made his debut in the NASCAR Camping World Truck series before transitioning to sports cars the following year. He began competing in the IMSA Continental Tire Series part-time in 2015 before completing full seasons the past two years in a Porsche Cayman with positive results.
Personal: Growing up in California, Jones became a young karting star and was considered an "expert" by the age of 11. After his family moved to North Carolina, he began racing in the Legends cars by age 13 and then advanced to the PASS Super Late Model cars.
Tags