Cameron Evans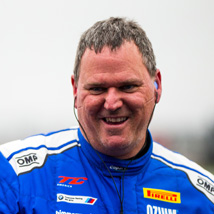 2018: Evans focused on conquering the Nürburgring in 2018, running BMWs with Sorg Rennsport in multiple VLN four-hour events, the ADAC six-hour qualifying race where he finished P4 with Charlie Postins, and in the famed Nürburgring 24 with his BimmerWorld co-drivers. Evans also made sure to find time to compete in multiple endurance and sprint events around the United States with BMW CCA, NASA, and SCCA, as well as with Lucky Dog and Champ Car endurance series.
2016-2017: Anchored by 24-hour endurance races at VIR and Thunderhill, Cameron focused on Spec E46 events with BMW CCA, SCCA, and NASA. Highlights of the two years included sweeping the SCCA Majors Hoosier Super Tour at both Buttonwillow and at Road America's famed June Sprints in the Touring 3 category.
2013-2015: Cameron relaunched his road racing activity by co-founding the BimmerLine Champ Car E36 team with James Clay and running in select Spec E46 rounds at circuits around the country, including Road Atlanta, VIR, NJMP, and Sonoma Raceway. 2015 ended right, with a prestigious class win at the 25 Hours of Thunderhill with El Diablo Motorsports in an ST3 E46 BMW.
Previously: Evans fought his way to One Lap of America stage wins in 1988 and 1989 and enjoyed a career in karting which resulted in a Rotax Masters Championship in 2011.
Personal: Born in Newport Beach, California and raised in Orange County, Cameron grew up in a motorsports family as the son of famed racing announcer Steve Evans. This early exposure had him riding motorcycles at age five and racing alcohol-burning speedway motorcycles at age 11. A lifetime desire to race cars led to Cameron gaining race licenses at the Bob Bondurant School in 1988 and later earning a degree in English from San Diego State University. He enjoyed a diverse business, media, technical, and sporting background that included drag racing with Busby Racing, Doug Herbert, and Dean Skuza from 1992 to 2004. After a long stint as editor of Popular Hot Rodding magazine and host of the Spike TV show of the same name (1995-2003), Evans moved onto Red Line Synthetic Oil Corp. where he would later become President and CEO (2003-2017). He now serves as CEO of Niteo Products in Dallas, Texas. Cameron is married to wife Andrea, dad to dog Thurston Howl III, and enjoys skiing, golf, dirt bikes, and racing with his family and friends.
Tags