Ari Balogh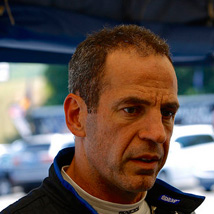 2016: Rookie year of pro racing in IMSA and World Challenge in a variety of vehicles, including the Next Level European Porsche Cayman in the IMSA Continental Tire SportsCar Challenge, plus an Aston Martin and BMW M235iR in the World Challenge series.
2015: Raced BMWs in SpecE30 and SpecE46 with NASA and SCCA. Took first and second in class in two WERC three hour enduros at Buttonwillow, and fourth in class at the 25 Hours of Thunderhill.
2014: Rookie season racing SpecE30 with NASA and SCCA in NorCal.
Previously: Ari was cajoled into attending a track day over the 2012 holidays, which started the quick escalation from casual track days to car control and then racing school. Prior to racing, the speed itch was satisfied by regular work trips to Germany… to drive the Autobahn.
Personal: Fascinated by cars and speed from an early age has led to many adventures for Ari, from restoring cars to driving in 47 of the 50 states and 20+ countries. Beyond cars and racing, Ari can be found with his family or developing new Internet technology.
Tags